Kyoto is the spiritual, artistic, and cultural center of Japan. It is also the home to a thriving tourist industry, attracting many millions per year. It is the city that all visitors to Japan go to. And, in recent years, more of those tourists and taking to the streets on two wheels.
Its 17 World Heritage Sites are spread throughout the city, easily accessible.
The city was laid out in checkerboard fashion, some 1200 years ago, following the example of the ancient Chinese imperial capital Xian.
With mountains on three sides of the city, the inhabited areas of Kyoto tend to be flat but sloping slightly as you travel north – all of which means it is a wonderful city to cycle in.
CycleKyoto is a bilingual reference for tourists and commuters, first-time visitors and long-time residents.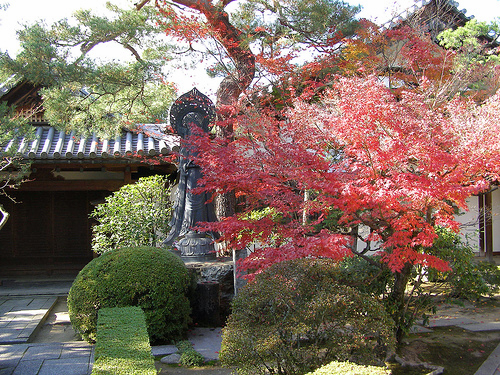 There is information on popular tourist routes for the temples and shrines, off the beaten trail routes, safety information, bike law, bike rental, where to stay, restaurants and cafes, public baths, hiking, temples, museums, weather, and more.
CycleKyoto also hopes to advocate for bike only lanes, better safety measures, and other issues to make Kyoto a truly cycling friendly city. Every trip on a bicycle one less trip in a fossil-fuel generated means of transportation. Ride Kyoto, ride!
PLEASE NOTE: CycleKyoto does NOT lead bicycle tours.
Kyoto Cycling Routes
If the map does not load when using Internet Explorer (IE) on a Windows PC, please hold down the "Control" key and refresh the page